World Firefighters Games 2018 in Chungju/South Korea
From 9 to 17 September 2018, the World Firefighters Games were finally held again after 2012. The venue was Chungju, a city in the South Korean state center. The Korean fire brigade gave the firefighters from all over the world an unforgettable ten days.
Starting with a phenomenal opening ceremony, the more than 6,000 firefighters fought in 70 sports. Each athlete was able to pursue his favorite sport during the day and in the evenings the FRIENDSHIP among the athletes was celebrated in the "Games Village". Our brand ambassador Joachim Posanz started in the prestigious competition and "figurehead" of the games, the Toughest Firefighter Alive – TFA! Posanz became world champion in his age group (45-49) again. The sensation was perfect!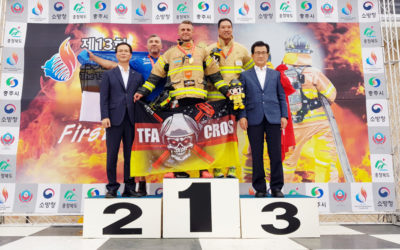 Also in the overall field Joachim Posanz left with 7th place in the ranking of the best many of the international firefighters behind. The competition season has had a GOLDEN finish for Posanz. The hard training of the exceptional athlete has paid off!