TFA European Championship in Mönchengladbach
On June 9th / 10th the 19th TFA-German Championship was held in Mönchengladbach. This year's competition was announced as open European Championship again. As they were competing for the title Toughest Fire Fighter Alive – Europes toughest male/female fire fighter all top elite athletes of the scene had come. About 200 male and female fire fighters from many European countries (Estonia, Poland, Norway, England, Austria…) faced the tasks of the TFA-competition.
One team even came all the way from South Africa only for this event. Under the eyes of the many visitors and several media representatives the athletes fought for the 'TFA-crown' in this open European championship. On 4 stations both male and female fire fighters had to manage various tasks of everyday fire-fighting combined with highest athletic requirements while wearing full protective gear and respirators. If you only want to get near a podium place you need to have top fitness and tremendous willpower.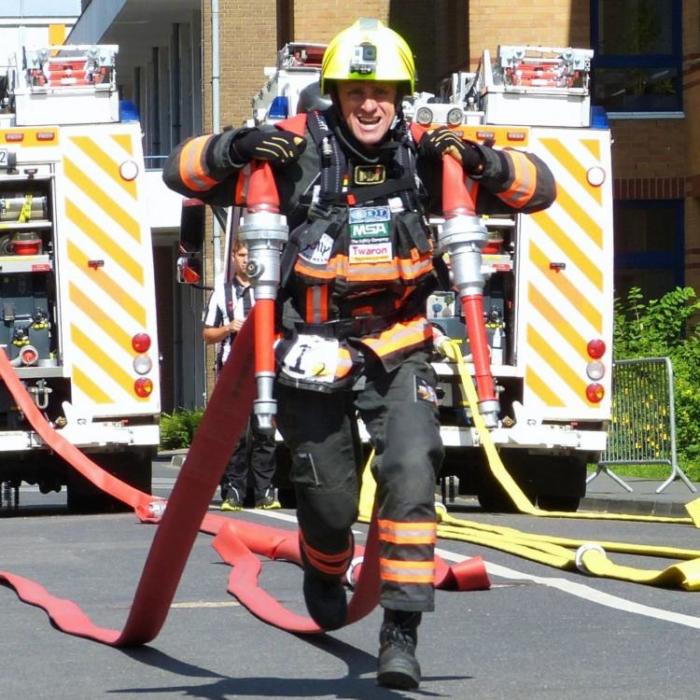 Joachim Posanz won in his age group and was able to regain his title as European champion. With a time of 6,17 minutes Joachim Posanz reached fifth place in the overall ranking. Being the best German, he could secure the title German champion.
Together with his colleagues from the professional fire brigade Göttingen Posanz reached third place in the relay competition which was fiercely contested.