The competition season of fire fighters has begun
Exceptional start in favour of our brand ambassador Joachim Posanz
For the first time a fire fighting challenge, the Fire Combat 360, was held in Mumbai, India. 22 teams from 16 nations had been invited to this premiere, amongst them mostly European teams, that were already established in the competition scene. Hence the quality of the teams was accordingly high.
The perfectly organized firefighting challenge was held on the area of the Mumbai Sports Club from March 8th to 10th. Dr. Prabhat Rahangdale, Chief Fire Officer of the Fire Brigade Mumbai, invited to the challenge in order to popularize that kind of fire fighting sport in India and to entrench it in the future. Joachim Posanz our brand ambassador of 'DIE SCHLAUCHWEBEREI', started with his wife Andrea and three other fire fighters Dirk Fuhrmann, Sören Warzok and Magnus Metje for the TFA-X-CROSS Team Germany.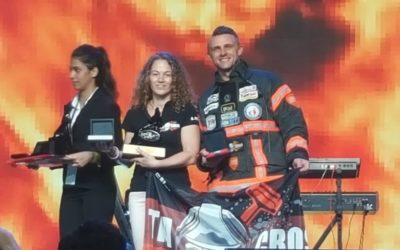 The brand ambassador of DIE SCHLAUCHWEBEREI was able to gain an important victory
Sponsored by the OSW (Ohrdrufer Schlauchweberei Eschbach) fire fighter Joachim Posanz won in his age group M45 and together with his wife he got third place in the Tandem Mixed category, which is an amazing start into the competition season 2018. Indian fire fighters, whether taking part in the competition or watching, were thrilled by that sport and impressed by the familiar friendship amongst all participating male and female fire fighters. It was a terrific cooperation and great promotion for this sport.